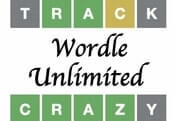 Wordle Unlimited FREE GAME · PLAY ONLINE
Wordle Unlimited is a logic puzzle in which you can have a cool time. You will have to solve word problems, which are updated every day. Players can also compete with other users. It can be done by a beginner as well as a professional in this business.
It doesn't matter how experienced you are, because you can learn everything quickly here! Perhaps you are a big fan of crosswords, and for you it will not be difficult to cope with a minimum number of attempts. There are also several modes, where you can test skills!