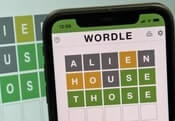 Wordle Puzzles FREE GAME · PLAY ONLINE
If you need to improve your vocabulary, then Wordle Puzzles is for you! It's clear and simple! You are given a word, usually consisting of five letters. But there are also modes where there are more letters, namely seven and nine. You can also do it with friends and test yourself!
Each time a letter is tinted in color, it means you are closer to the clue and it is present in the word. There is a limited number of attempts here, so don't waste them. These quizzes will do a job of strengthening the brain!