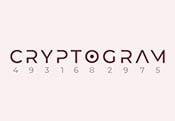 Cryptogram: Word Brain Puzzle FREE GAME · PLAY ONLINE
This game is a great way to do useful things at any time of the day. Here players will strain their brains to cope with the tests. There are lines on the screen with letters on them. Since there are not enough of them, you must fill them in!
But it won't be that easy, so get ready to use your wits! Choose one of six categories and start the process! What interests you most? Animals, books or numbers? Be careful not to make mistakes or get confused! Each of the levels is unique, so no one will have time to get bored!