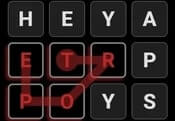 Squaredle FREE GAME · PLAY ONLINE
A very addictive puzzle for fun, and that's Squaredle! We have a square-shaped field that is not very long and tall. And we have five words in each row of the same number of letters. You need to fill the field completely by guessing the missing ones.
And you have to accomplish this task in ten tries. If you are successful you can call yourself a genius! Depending on what you choose it may be colored differently. Pay attention to this to change the situation in the right direction! Good luck!