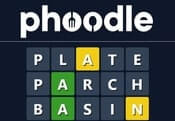 Phoodle FREE GAME · PLAY ONLINE
If you're a true connoisseur of cuisine and food, then Phoodle is the one for you! Learn famous chefs, new dishes whose recipes you will soon be able to find and prepare. And also develop your logic and vocabulary! There are a very large number of words that you need to guess.
Develop communication, solve problems with your friends and share your knowledge! If you solve a problem correctly, you'll get a fun fact about food or a hint. And a new word every day! This challenge is not only fun, but also useful!