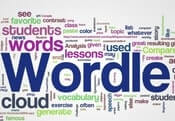 Wordle Generator FREE GAME · PLAY ONLINE
Have fun with your friends, because here you can do it together! Think of any word from five to eleven letters, and your partner has to guess it. Everyone only has six tries and sometimes even less. Just think of a genius thing and watch others solve it.
Each correct letter will be marked in blue. A symbol that is in the wrong place will be in yellow. Gray characters will not be displayed, which will only complicate the mission. Find out which of you has the right to call yourself a polymath!