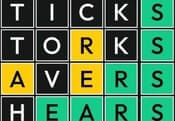 Octordle FREE GAME · PLAY ONLINE
This is a fun and addictive game,where you will have to guess a word. Participants have only six tries to guess it. When you use the attempt, the user will find out how right he or she is. If you have written the correct letter,but it has to be somewhere else – it will be yellow.
You will see green when it stays in the right place. If it has not changed color in any way, then you have made a mistake.Be very careful not to lose! If you want to test your vocabulary, this challenge is for you. Good luck with that!