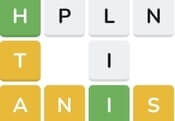 Waffle – Daily Word Game FREE GAME · PLAY ONLINE
If you and your friends like puzzles, this challenge is perfect! Players are given a field on which they must collect six words. All necessary letters are distributed at the bottom of the screen, but not in the right order.
You need to swap them in order to complete the task correctly. Participants have fifteen moves for the entire level! A new level appears at the same time as your comrades! So they will always be the same, which means you can test your wits. Compete to see who will pass in fewer moves in the game!