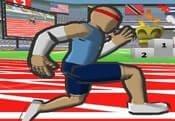 Speed Stars FREE GAME · PLAY ONLINE
Speed Stars is great for those who love racing. But there will be no cars or other vehicles in this challenge! Here, players will control characters who must run fast. The main task is to cover the hundred-meter distance as quickly as possible.
Obstacles will appear on the way and therefore you need to be careful to get around them. Customize the hero's appearance and unlock new tracks with traps over time. The controls are too simple, so players only need two fingers to become the leader.