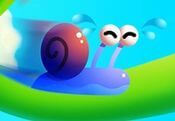 Crazy Snail FREE GAME · PLAY ONLINE
As you know, these mollusks are very slow. Who knows why they are destined to be like this, perhaps because of the house on their back. But in Crazy Snail, players will meet a hero who went above and beyond.
He can accelerate at high speeds and decided to take part in racing competitions. In this challenge, fans will help him reach the end of the thick stem! Be careful, because thorns, bees and other enemies will appear on the way! Collect water droplets and energy that will help you complete the mission!