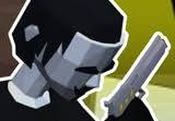 Agent Mission FREE GAME · PLAY ONLINE
If you have always dreamed of fighting evil, Agent Mission is definitely for you. Here you will find yourself in the role of a real fighter for justice. Your arsenal will include weapons and other accessories to fight your opponents.
But be careful and precise, because there is not much ammunition. If one of the criminals kills you, you will have to start all over again. By eliminating gangs, you will receive money that you can use. Buy yourself a new weapon or change your image!