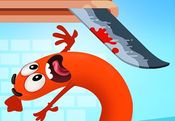 Run Sausage Run FREE GAME · PLAY ONLINE
In Run Sausage Run you will control a very tasty and funny long weirdo. Here it can be crushed with a foot, cut with a knife, fried or simply eaten. It won't be easy for him, but we are sure you can help him. Danger awaits at every turn, but if you are agile, your character can survive.
Jump, lie down, dodge obstacles as quickly as possible. Because if someone hurts him, he will have to start his journey all over again. Hurry up and start this exciting adventure and will do everything to achieve goals!