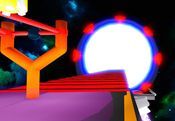 Sling Race FREE GAME · PLAY ONLINE
Is speed your passion? Do you like to win and be first everywhere? Great, because here you have an exciting battle for the championship. You will be able to feel like the coolest driver and compete with worthy opponents.
This game offers fans many colorful and challenging routes. By completing them, they will receive prizes for which you can purchase a new vehicle. The controls are simple, so you can easily get into the process right away. A little courage and victory will be yours! Good luck!