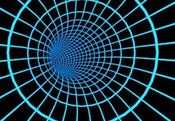 Blue Vortex FREE GAME · PLAY ONLINE
Just imagine that you are rushing at the speed of light through an endless pipe. Obstacles constantly appear on your path. You must deftly bypass them and react very quickly. This game can end for you at any moment if you don't have time to dodge.
The color of the tunnel, the speed and even the obstacles themselves will constantly change. As soon as you complete one level, the next one will follow. The feeling of tension will not leave you! Hurry up and immerse yourself in this incredible atmosphere!