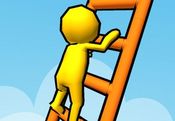 Ladder Race FREE GAME · PLAY ONLINE
Imagine that you are a small and very purposeful person. Introduced? Then forward to the goal! You need to look for and collect small rectangles of all the colors of the rainbow. By collecting enough of them, the character will be able to build very tall stairs.
It will help you in the future! With its help, the little man will be able to go to the next level and beat his opponents. Climb as high as possible and collect coins along the way. They improve abilities in the Ladder Race! Set records and overcome them!