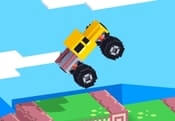 Drive Mad FREE GAME · PLAY ONLINE
In Drive Mad, players have to get from one location to another. It seems like a simple task, but just give it a try! Here you will encounter a huge number of obstacles. All of them are dangerous and can create conditions for an accident.
In order to bypass them, fans need to use quick reaction skills. Be dexterous and attentive on the road to become a master! Can you pass every level here? All of them are unique and able to add spice! Adjust the speed so as not to roll over and stay safe! Good luck!