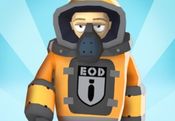 Bomb Hunters FREE GAME · PLAY ONLINE
If you like to take risks and solve problems of any complexity, so Bomb Hunters. Here you will control a character whose task is to find and neutralize dangerous things. There will be many obstacles on your way, but you will definitely deal with them.
You will have a limited amount of time, so everything needs to be done very quickly. The lives of many people, including yours, depend on your actions. Hurry up and go on this crazy journey to save as many people as possible! Can you handle it?