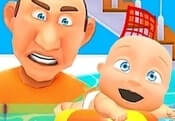 Where is He: Hide and Seek FREE GAME · PLAY ONLINE
Where is He: Hide and Seek is an exciting process that arouses interest from the first seconds. Before starting a level, players will have to choose a character. Now that the bottle has indicated your role, go to the location.
At the top, tasks that need to be completed in a certain time will be shown. A timer will also be shown there, so constantly pay attention to this in order to complete the mission on time. Be careful not to miss anything, and also be dexterous. Explore the territory and complete the quest!