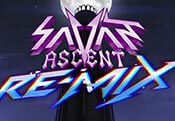 Savant – Ascent REMIX FREE GAME · PLAY ONLINE
The main character must be saved! Head to the tower and ride the elevators! Here at every step you can meet a dangerous robot whose goal is to kill you! Will you be able to cope with all the attacks? In this game, players will master magic and other secret techniques.
Learn to use them correctly so as not to leave your enemies a chance to win! Each stage has unique missions and monsters. Be amazed by their abilities, but continue to achieve your goals! Will you reach the Samurai's lair?