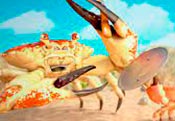 King of Crabs FREE GAME · PLAY ONLINE
Are you ready to take part in exciting battles? Here players will control heroes with strong shells. Their main task is to defeat all opponents on the way. The huge and open area will allow you to move around any area.
Explore locations and be careful not to fall under the claws of enemies! King of Crabs has several modes where everyone can reveal their best talents. Prove that it is better not to mess with you and make everyone afraid of your mere presence! Get cool prizes and rewards!