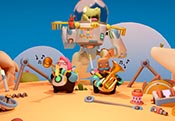 Astronimo FREE GAME · PLAY ONLINE
Four people went into space to get the necessary resources. They were here for a long time, but suddenly their ship broke down. This forced the guys to make an emergency landing on one of the small planets.
Now the characters have to leave this place and do it as soon as possible. Help them complete all the important missions in the game! Players will build a special vehicle that will return them to the main team. Solve puzzles at the same time and use abilities that are responsible for creativity!