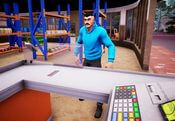 Trader Life Simulator FREE GAME · PLAY ONLINE
The idea of running your own business sounds cool! But will it be easy to do? In Trader Life Simulator, players will open a store in a small area. Make renovations that invite buyers in! Place display cases, buy groceries, beautiful furniture and much more!
Constantly improve the building to get even more profit. Fans also need to manage their budget wisely to avoid receiving bad news. Bankruptcy can happen suddenly, so beware of it! Expand the location, discover new things and so on!