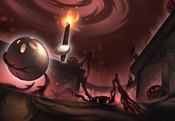 Rack and Slay FREE GAME · PLAY ONLINE
Rack and Slay is a cool game that requires players to be accurate. Take control of the ball and go to half the earth! There are a huge number of people just like the hero, but only with bad intentions. Consider them enemies and fight in wonderful battles!
Fans should act like billiards, so quickly remember the basic rules. Find the perfect direction and strike your opponents! 20 unique levels await you, where the complexity and tension increases. Can you be dexterous enough to deal with them?