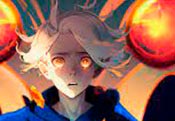 Hollow Survivors FREE GAME · PLAY ONLINE
Welcome to the dungeons! Here players will control a hero who is still sane. He is the last and under no circumstances let him die! His main task is to take revenge on his opponents. They put a curse on him that turned the guy into something different from what he was before.
Can you change the plot? There will be many enemies along the way that you will have to fight! Create amazing combos with different tricks! Try using an ax that can deliver fatal blows! Remember that death is not the end!