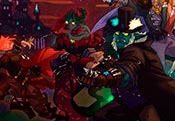 NecroCity FREE GAME · PLAY ONLINE
Become a brave knight who will defend the territory! In this game, players will be able to build and fight! An unexpected combination, isn't it? In order to be an invincible warrior, you constantly need to build outposts.
Mine resources, discover new materials, learn spells and much more! Summon even more brave spirits to confront your opponents! This process will interest anyone who wants to gain leadership skills! With the help of mods, fans can change the plot! Remember that the choice is yours!