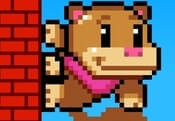 Wall Kickers FREE GAME · PLAY ONLINE
The main character decided to go on a journey, but it turned out to be a little dangerous. You have to control the hero to help him cope with obstacles! In Wall Kickers, the main task is to go as far as possible. Players have to constantly climb the top with the help of jumps.
Tap the screen to move forward, but be very careful! Sharp spikes, shockers and more will appear on the way! You also need to be agile to deal with the spinning platforms. Stay focused or you'll fall down! Your cunning will save you!