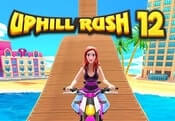 Uphill Rush 12 FREE GAME · PLAY ONLINE
This is a fascinating and dynamic racing game that will keep you on your toes. After completing each level, you will need to use all your skills and reflexes! This will help you avoid obstacles and collect money and bonuses along the way.
There are several modes to choose from, including time trials and knockouts. It doesn't matter if you're an experienced racer or a casual dude looking for a fun experience! So grab your helmet and get ready for the best ride of your life! Enjoy this!