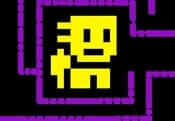 Tomb Of The Mask FREE GAME · PLAY ONLINE
An exciting arcade that requires fast reactions to successfully control the character. The application is made in an interesting design and this attracts characters. Tomb Of The Mask looks like it was created in the 90s.
An idea from the era of the birth of 8-bit graphics. If the energy runs out, it doesn't matter – there is an arcade mode where the level is generated indefinitely and it is unrealistic to get to the end.
There are missions, but the rewards for them are quite ridiculous, but extra coins drip from them, the main thing is to pick them up on time.