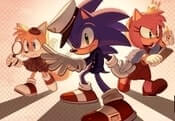 The Murder of Sonic the Hedgehog FREE GAME · PLAY ONLINE
Recently there was a strange murder and today one of the characters has a birthday. In honor of this, the pink hedgehog throws a party and invites many guests. During the course of the game, the main blue character disappears.
Now you have to understand everything is going according to plan or something terrible is happening? Players need to go on a journey around the world and find out all the secrets! Here you can interrogate familiar and even favorite characters to get evidence.