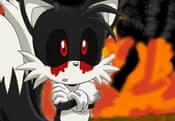 Tails Sonic EXE FREE GAME · PLAY ONLINE
Tails Sonic EXE is another version of the scary challenge! Players will have to re-learn the story of the blue hedgehog and his adventures. This time he will surprise you with his new abilities that will cause fear.
After the demon took his soul, he became aggressive and irritated. Players need to find the right approach to manage it and pass all the tests. Fight monsters that will prevent you from getting rings! You can also see other characters who are involved in this story! Good luck!