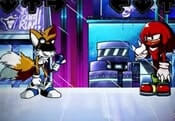 Sonic.EXE Hell Reborn FREE GAME · PLAY ONLINE
This mod was created by fans and is an addition to the famous game. Here, players will once again plunge into the atmosphere of confrontation and win! This is a continuation of the story about how Boyfriend fights an evil version of the hedgehog.
In addition to this demonic character, players will be able to meet other heroes. They are from the same universe and therefore will give you goosebumps. As long as you sing songs, they will make you nervous. Confirm that you are the master!