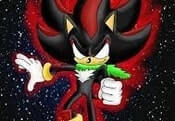 Super Shadow Exe FREE GAME · PLAY ONLINE
This game is for those who like to experience adrenaline and action! Here, players will plunge into another version of the hedgehog challenge. A terrible demon took possession of his body and now you will control it.
There are some updates here that will surprise everyone. Start your journey exploring the creepy location and collect the necessary items! Be very careful to avoid obstacles and not fall into traps! There will be several levels that differ in features and will make you tremble with fear!