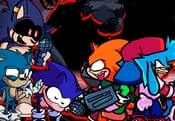 FNF Sonic Exe 3.0 FREE GAME · PLAY ONLINE
The boyfriend decided to go to a tropical island to relax. He, as always, took his girlfriend with him and began to explore the territory. Suddenly he came across a blue hedgehog, but he was not like himself. Everything is clear, this is an evil version of the character!
In this game, you have to fight him to get out of here alive. In time, click on the arrows that are visible on the screen to get the desired note. Perform songs perfectly to return to normal life! In addition, you can meet several other characters!