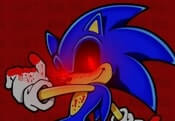 Scary Sonic FREE GAME · PLAY ONLINE
Scary Sonic is a famous character whose body was possessed by a demon. He endowed him with terrible abilities that you will learn about today. The blue hedgehog has changed a lot in terms of appearance. His eyes are full of anger and his smile is twisted.
In addition, he changed the color of the coat and the skin that made him creepy. This time, players will visit a world full of dangerous obstacles. Can you handle it all and make it to the finish line? Run, dodge traps and fight monsters!