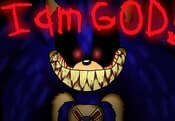 Sonic.EXE I Am God FREE GAME · PLAY ONLINE
So, are you ready for another run? In the new version of the challenge, players will get to know another personality of the blue hedgehog. He has a new plan for how to achieve great success and you will help him in this.
You have to visit a gloomy location and look at how the hero's eyes are filled with blood. He is in anticipation of what road lies ahead of him! In Sonic.EXE I Am God you have to react quickly to avoid traps and cope with all obstacles. Collect the necessary items to complete the level!