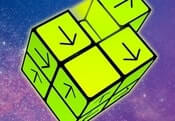 Tap Away FREE GAME · PLAY ONLINE
Tap Away is a puzzle that will make you think! The task seems simple, but it really isn't. The first levels you will pass easily and without difficulty. But each time the mission will get harder. You have a lot of time, so take your time.
Use logic, intuition, deduction and other things that can help. Move parts of the square to finish the process and move on! Take the blocks out and rearrange them in the right places! Find out how good a polymath you are! This challenge will improve your knowledge!