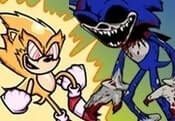 Sonic Exe 2 FREE GAME · PLAY ONLINE
Almost everyone knows about the blue hedgehog! In this version, players will recognize him from a completely different side. This is the second part of the game where you have to get to know the demon inside the character even closer.
This world is completely different from the original! There is darkness, blood and a huge number of enemies everywhere. You have to cope with a lot of obstacles and get to the finish line. Control a creepy hero and react in time to dangerous situations.