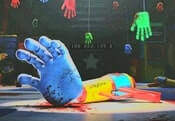 Project Playtime FREE GAME · PLAY ONLINE
In this game, the players have a responsible task. It will be a 6v1 battle style challenge. The team of participants must find all the necessary parts to complete the goal. They have to go to an abandoned factory. Explore all corners and all corridors to get the desired result.
But be careful because monsters live here. They protect the items and are not going to give them away just like that. Will you be able to get to the hole and survive? Demonstrate your dexterity and confidence in actions!