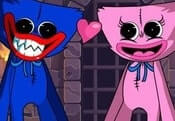 Huggy Love and Rescue FREE GAME · PLAY ONLINE
This story tells about the famous blue monster of enormous size. His beloved was kidnapped and locked in a dungeon. Now the players have to help the creature cope with all the problems that will arise on the way.
In Huggy Love and Rescue you have to be smart and attentive. Go to the territory and carefully examine it! There will be a huge number of puzzles that will make you nervous. But we believe that you will solve them all and save the pink hero! Do not waste time, because it is very important here!