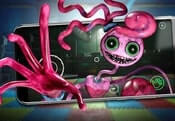 MOB Poppy Playtime Chapter 2 FREE GAME · PLAY ONLINE
This is a continuation of the game about an abandoned factory. This version was created by fans and they did a good job of getting the right emotions. Visit this sinister place and be amazed by what happens here.
The territory is inhabited by terrible monsters who hate intruders. They have prepared for you a lot of different traps and therefore you need to be always on the alert. Collect the necessary items and solve puzzles in order to get out of here. Use your inventory to put the necessary things!