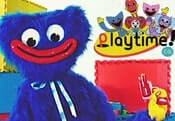 Playtime Co. Employee Safety Video FREE GAME · PLAY ONLINE
A few years ago, a terrible accident occurred at the toy factory. All the staff who were there suddenly disappeared and they still haven't found an excuse. You have to visit this sinister building and find information that will confirm the terrible events.
The territory is inhabited by many monsters that can be too dangerous if you meet them. In this game you will learn about what methods you can use to survive! Remember to be careful and quiet so as not to attract the attention of enemies!