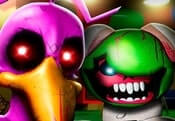 Garten of Banban Reincarnated FREE GAME · PLAY ONLINE
The developers say that this version is completely unrelated to the main one. Experience new emotions in Garten of Banban Reincarnated! This process will be filled with creepy moments and even screamers. Go to a creepy location and spend some time here.
Players will be able to see new characters that have their own stories. Be careful when exploring the building! You never know when trouble will come! Collect clues and necessary items that will help you in the future. Unravel the terrible secret!