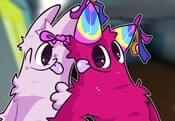 Garten of BanBan RP FREE GAME · PLAY ONLINE
This place is very popular among children and their parents. But none of them knows what exactly this building hides! They say that people disappear here and you have to find out more about it. Visit this location and explore what is behind the doors!
The atmosphere will be terrible and constantly tense, which complicates the task. Do not give in to emotions to complete the main mission. Always be on the lookout, because creepy monsters live here! In Garten of BanBan RP, you have to solve puzzles!