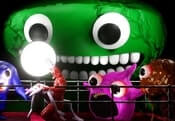 Garten Of Banban Chapter 2 FREE GAME · PLAY ONLINE
Welcome to Garten Of Banban Chapter 2! Do you remember this place and its legend? It is said that children disappear here and never return. You have a unique opportunity to test this myth! Unfortunately, or vice versa, it turned out to be true.
Now the player is faced with a difficult task – to stay alive. In this part, you have to visit a new place, which was not mentioned earlier. Explore every corner and centimeter, but be careful! Monsters are really everywhere and they are ready to attack you!