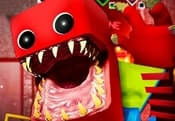 Project Playtime: Scary Boxy 2 FREE GAME · PLAY ONLINE
Welcome to Project Playtime: Scary Boxy 2! Here you and your friends have to visit a terrible mansion! At every turn, players can meet the creatures that live here. They have excellent eyesight and hearing, so you need to be very careful!
You have to explore all the rooms to find clues. Learn creepy secrets that have been kept here for decades. The process is interesting, albeit stressful! Discover new opportunities and don't forget to respond quickly to problems! Stay here as long as you can!