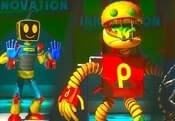 Project Playtime Battle Pass FREE GAME · PLAY ONLINE
This is a cartoon game with fighting and survival elements. You compete against each other on a virtual playground. Use your skills and weapons to outwit and outlast your opponents! You can also customize your character's appearance and equipment to suit your style.
The Project Playtime Battle Pass offers both solo and team mods. This allows players to form alliances with others, or go it alone with the will to win. No one forbids cheating, so try different methods! Watch your back!