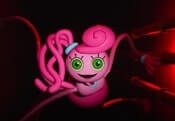 Poppy Playtime Mommy Long Legs FREE GAME · PLAY ONLINE
Poppy Playtime Mommy Long Legs is a cool horror! Here, players will have a closer encounter with the pink monster. It looks strange and quite cute, but who knows what it actually hides! The creature has long limbs that allow it to move quickly.
She also has other abilities that you will learn about a little later. Visit a place that will give you goosebumps! Complete tasks and move on! Can you make it to the end without screaming in fear? Find out about all the secrets that are here! Good luck!