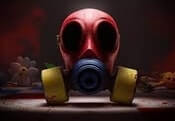 Poppy Playtime Chapter 3 FREE GAME · PLAY ONLINE
More spooky moments in Poppy Playtime Chapter 3! Now players will meet new monsters that have become even angrier. They are ready to attack you, so enter the building. You have to solve the most terrible mystery in the last few years.
Explore all rooms to find out the necessary information. It will not be easy, because it is guarded by dangerous creatures. Achieve your goal and get out of the factory alive! This challenge is not for the faint of heart, so be careful! Collect clues and complete the mission!