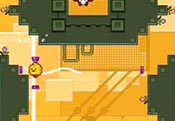 Plungeroo FREE GAME · PLAY ONLINE
This game will make you think like never before. Players will go to a location where they will shoot the ball. Pull it and release it so it hits the target! This puzzle will become more difficult with each level and for good reason!
Fans will place triangles that will appear at the bottom of the screen. Do this in such a way that the round object springs back from them and hits what is needed! Calculate every next action if you want to become a winner! Hit the hole and be smart! Good luck!