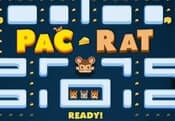 Pac-Rat FREE GAME · PLAY ONLINE
The name of this challenge sounds very familiar. And this is no accident! In Pac-Rat, players will control a mouse that loves to eat delicious food. Help the rodent get to the cheese to devour it! All actions will take place in the maze, where there will be three more cats.
They hunt the hero and want to attack. Be very careful not to meet them, otherwise there is no turning back. Avoid embarrassing situations and think ahead every step! Participants must have a strategy to complete the level successfully!